Coral Castle Psychic Fair - First Saturday of every Month
28655 South Dixie Highway, Homestead, FL 33033
(Corner of US1 and 157th eve.) (305) 248-6345
Coral Castle Psychic Fair 11am - 6pm
An intimate group of psychics, intuitives, and product vendors, including me, gather every first saturday of every month at one of Floridas most unusual landmarks, the Coral Castle.
Get your fairy reading,or tarot reding, or shop a unique collection of crystals, have your aura photographed and enjoy a dozen other delightful surprised on a the first saturday of every month.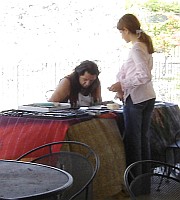 This is a fun event where you can get to know some of south floridas best readres, healers and intuitive, while you stroll through the remarcable grounds of the magnificent Coral Castle.

28655 South Dixie Highway, Homestead, FL 33033
(Corner of US1 and 157th eve.) (305) 248-6345
Coral Castle Psychic Fair 11am - 6pm (or later)